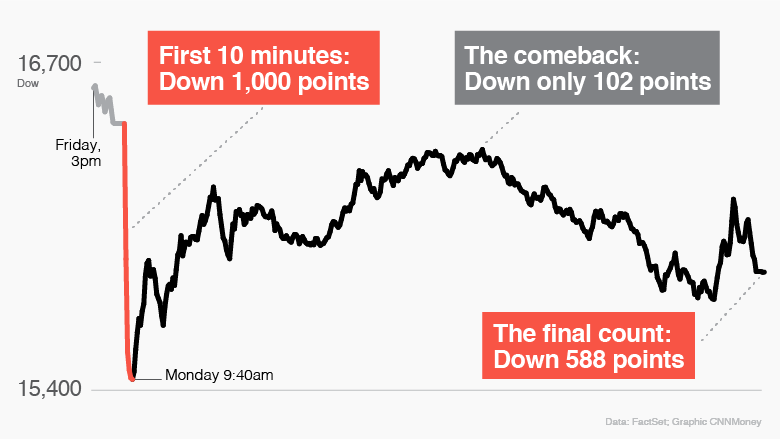 As everyone already knows, this past Monday was a pretty wild ride in the market. After historic 1,000-point plunge, Dow dives 588 points at close....the 588 decline was the worst since August of 2011. As a long term investor, we were definitely happy to see the correction we've been long awaiting. Sales were to be had throughout the market and our family went shopping!
By the time the day was over, we had 7 limit orders execute. In no particular order, below are the 7 companies that we bought on 8/24/2015:
Enbridge Inc

- 9 shares for $37.17/share

Union Pacific Corp

- 4 shares for $80.00/share

Occidental Petroleum Corp

- 5 shares for $64.08.share

Kinder Morgan Inc

- 12 shares for $29.00/share

Johnson & Johnson

- 4 shares for $90.00/share

Oneok Partners LP

- 12 shares for $28.09/share

W. P. Carey Inc

- 6 shares for $58.00/share.
We ended up spending a total of $2,380.01 on the 7 recent Black Monday buys. Our
purchase will net an estimated average yield of 5.5% with
o
ur estimated forward dividends increasing by another $132.73

, putting

our yearly dividends at approximately
$3,219
/year (excluding our Edwards Jones account) and
$3,576
/year (including our Edward Jones account)
.
Of our buys, six out of the seven buys were companies that we had already owned. We did, however manage to pick up shares of W.P. Carey Inc to add yet another dividend paying stock to our
family's
dividend stocks portfolios
(WF and EJ Accounts). Our
portfolio now stands at
a total of
47
different dividend paying stocks/ETFs and also
4
companies that either don't pay a dividend our has currently suspended their dividends.
Our family's dividend stocks portfolio may be found
by clicking on the link below:
We also maintain an extensive list of stock analysis
that can be access through the link below:
We also just started a list of Recent Buys by other bloggers
that can be access through the link below: